What's the 10mm 3 core swa cable market trend?
Because of with the paid development of global economy and the international trade. Also promoted the development of 10mm 3 core swa armoured cable market. Therefore, the cable is more and more suit for variety of industrial. So, many buyer also like to received the cable. But how to get the satisfying 10mm 3 core swa price from so many suppliers.  Firstly, that is a distressed process when they purchase the cable. Because of wide application of the swa cable, more and more cable manufacturers in succession appear.
At the same time, there is a lot of 10mm 3 core swa cable middle suppliers. But, they broke the normal international order.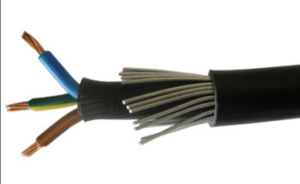 Voltage rating: 600/1000V
Core colours: 10mm 3 core swa cable (Blue, Brown, Green/Yellow)
Standard: BS5467, IEC 60502
Conductor: Class 2 stranded plain copper conductor to BS EN 60228:2005
Insulation: XLPE (Cross-Linked Polyethylene)
Bedding: PVC (Polyvinyl Chloride)
Armoured: SWA (Steel Wire Armour)
Sheath: PVC (Polyvinyl Chloride)
Sheath color: black
Temperature rating: 0°C to +70°C
So, Huadong Cable Group international trade sales managers hear the complaints often from end customers. But the middlemen get lowest 10mm 3 core swa price from the cables factories, then change hands the end-users. Therefore, they get a lot of profit from the these. However, great economic loss to end-users. How a very sad thing to many end-users.
How to get your idea 10mm 3 core swa price?
But, how to find the reliable 6mm 3 core swa cable manufacturer?  Whenever want to get the armoured cables factory direct sales 10mm 3 core swa price list?  how to avoid the middlemen and so on. Many end clients focus of attention these questions. So, Huadong Cable Group sales manager Mr.Allen according to some year experience. And will give you some helpful advises, hope that  you to get your proper 10mm 3 core armoured cable supplier.
16~25mm Armoured Cable List
If, you can find your business by internet, and then to search the suppliers in google. Then you will find many excellent swa cable manufacturer from China. That's because, China has rich metal resources. Especially, aluminum and copper.

So, Huadong Group Company as a brand 10mm 3 core swa cable factory. It not only can produce all kinds of armoured cable according to client's requirement. but also factory direct sales, without thirdly partner. At the same time, you can get your ideal 10mm 3 core swa price. So, we welcome you visit our factory, hope give more surprise to you.