How many types of dead end clamp for abc cable accessories
Generally speaking, the dead end clamp for abc cable accessories refer to the low voltage ABC cable overhead line fittings. Such as, insulated wedge type clamp, tension clamp for overhead lines, dead and clamp and so on. Though, the insulation dead end clamp overhead line fittings are a small types electric overhead wire clamp fittings.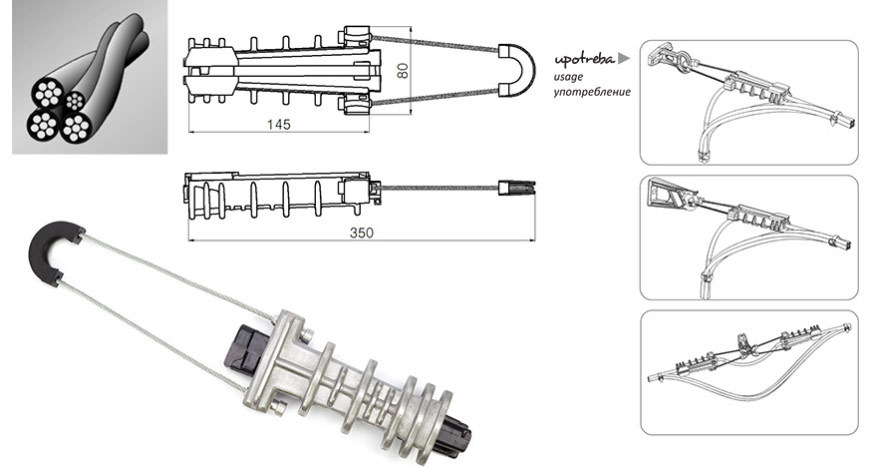 But it is very importance in the power system installation. So, the features of aerial bundled cable accessories no damage on the insulation layer of insulated messenger. At the same time, flexible tail allows 3 dead end strain clamps on a mounting bracket or pigtail bolt. So, when you buy the overhead clamp you need know more their feature information, and your project.
Such as, if your project is in mountain power grid transformation, that will use many quantities overhead abc cable. At the same time, that also use the large quantities overhead line fittings. Then you need purchase the  fittings accessories, Such as, wedge type clamp, insulation fittings, anchor clamp for abc cable etc. But, if your project is the substation, in addtion to these, you need to purchase the suspention insulator, post insulator, pin insulator and so on. If your project is the transformer, at the moment, you need buy transformer cabinet, surge arrester, screw terminal connector , opgw hardware fittings and so on.
The description and application of wedge type overhead line fittings

Firstly, the NXJ series wedge type clamp is applicable to terminal of 10kV and below overhead insulated aluminum core wire . Both of the tension section and insulator to fix overhead insulated conductor. So, end user ask them as aerial bundled cable accessories. Meanwhile, the dead end clamp for abc cable accessories are equipped with different plastic wedge cores according to wire specifications.
Secondly, NXL wedge type tension dead end clamp for abc cable accessories is suitable for 10kV wiring lines. Therefore, overhead wire clamp is use to fix the overhead insulated aluminum conductor of the corner or terminal tension pole. So as to fix or pull the overhead conductor closer. At the same time, The insulation cover is suitable for matching with the dead end strain clamps and plays the role of insulation protection. Every type insulation dead end clamp overhead line fittings have their own use feature. If you want to learn more the overhead cable clamps technical you can contact a professional abc dead end clamps for your work.

How to choose your ideal insulation dead end clamp overhead line fittings
Because of very country power system are difference, these dead end clamp for abc cable accessories are need customize from factory. But how to tell the manufacturer your aerial bundled cable accessories requirement? At firstly, you need the overhead cable clamp where you use and the product's structure picture to them. In order to let the insulation dead end clamps overhead line fittings manufacturer to clearly design sample for you. You must supply these message to factory. At last, you need compare the abc dead end clamp price from many factories. Because of there are many medium men, if you get the dead and clamp from them, that will cost very much money.

But, if you can contact a reliable overhead cable clamp suppliers that will save much money for your project. So, every details are every importance for your purchase wedge type clamp. As long as, you need the dead end clamp for abc cable accessories you can contact huadong any time. At the same time, you can supply the free insulation dead and clamp overhead line fittings sample and price list. If you are looking for the overhead line fittings for your new project. Huadong Group will a good choice. But why think so?  Firstly, huadong has more than 15 yeas export experience in the abc cable accessories and wedge type clamp. Meanwhile,  you have serviced  larger amount overhead line fittings clients from more than 30 countries oversean. So, we can complete service more and more new customers.