What's the mean of SJOOW Cable?
Because of oil resistance tinned copper sjoow cord is a kind of rubber cable, or we can say sjoow extension cord cable. Therefore, sjow cable belongs to portable cord. portable cord is also known as portable cordage, flexible cable, or extension cable. So, sjoow wire is a cable with multiple conductors, Sj00w cable used for temporary electrical power connections requiring flexibility. Therefore if you want to buy sjoow cable, please let us know, Huadong will free design the sjoow portable cord price for you reference.

The description of sjoow portable cord
The firstly world: S = Service Cord (600 Volts).
The secondly word: J = Junior Service Cord (300 Volts).
The thirdly word: OO = Oil Resistant both inside insulation and outside jacket.
The forthly: W = CSA designation both weather and water resistance.
Therefore the 3 core, 4 core, 5 core,10 awg, 12 awg, 14 awg, 16 awg, tinned copper sjoow cord is a thermoset cable, it entails a very heavy-duty rubber jacket around the copper wires inside. Whenever you purchase the Joow cable, we can customized the  size according to your requirement :
18/2 SJOOW, 18 AWG 2 Conductor
16/2 SJOOW, 16 AWG 2 Conductor
18/3 SJOOW, 18 AWG 3 Conductor
16/3 SJOOW, 16 AWG 3 Conductor
18/4 SJOOW, 18 AWG 4 Conductor
14/2 SJOOW, 14 AWG 2 Conductor
16/4 SJOOW, 16 AWG 4 Conductor
14/3 SJOOW, 14 AWG 3 Conductor
12/2 SJOOW, 12 AWG 2 Conductor
14/4 SJOOW, 14 AWG 4 Conductor
12/3 SJOOW, 12 AWG 3 Conductor
12/4 SJOOW, 12 AWG 4 Conductor
10/2 SJOOW, 10 AWG 2 Conductor
10/3 SJOOW, 10 AWG 3 Conductor
10/4 SJOOW, 10 AWG 4 Conductor  and so on.
So, sjoow extension cord jacket is made of CPE (chlorinated polyethylene elastomer).  And is resistant to a lot of things — water, oil, sun, and heat — which is what helps allow the SJOOW cable to be used for both indoor and outdoor applications. Most times the outer jacket of sjoow portable cord is also colored in a way to be visible, adding another aspect of safety when in use. Therefore, the 3 core, 4 core, 5 core,10 awg, 12 awg, 14 awg, 16 awg, oil resistance tinned copper sjoow cord is designed for use in 300-volt heavy-duty applications where flexibility and durability are required.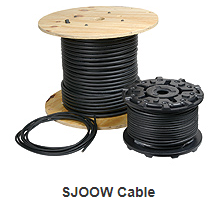 Tinned copper 3, 4 , 5 core,10, 12, 14, 16 awg  sjoow cord Construction:
18 to 10 AWG multi-conductor cable and so on2, 3 and 4-wire power cable configurations
Rated as for hard-usage service cord
sjoow extension cord of approved for outdoor use
Conductors: both bare copper and class K stranding per ASTM B-174
Insulation: EPDM (ethylene propylene diene monomer) thermoset rubber
Jacket: both CPE (chlorinated polyethylene elastomers) and thermoset rubber
Temperature range:   -40°C to 90°C (-40°F to 194°F) and so on.
Abrasion resistance, resistant to melting on momentary contact, low cost and so on.
SJOOW Cable Applications:
Because of  the tinned copper sjoow cord designed for use in machine tools, power tools, dockside power applications. Such as,  motor leads, portable machinery, cranes, and submersible pumps. And  then where water immersion is require for severe environment OEM/MRO applications of sjoow portable cord.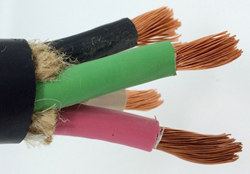 Voltage of sjoow extension cord: 300V, 600V and so on.
Cores: 2 core, 3 core, 4 core, 5 core and so on.
Conductor: either Copper or Tinned Copper etc.
Portable SJOOW Cord: -50°C to 105°C
Sheath: both Oil Resistance PVC and oil XLPE
Type sj00w cable: both 90°C  and 150°C ;
Standard: UL/CSA and so on.
Portable cord sj00w cable (Tinned Copper Conductors)
| | |
| --- | --- |
| No of Cond of sjoow extension cord. | Color |
| 2 | both Black and White |
| 3 | Black, White, Green/Yellow and so on |
| 4 | Black, White, Red, Green/Yellow and  so on |
| 5 | Black, White, Red, Orange, Green/Yellow, and so on. |
How much of the sjoow cable
Because of the the oil resistance Sj00w Cable is very 95 mm2 4 core flexible cable .  And it have many advantage feature, Such as: Oil resistance and water. So, it is widely use for many important projects. But the cable's production process is very difficult, and require high technology. At the same time, the tinned copper sjoow cord price is also very expensive. Especially in Philippines, Malaysia, Yemen, Singapore, Vietnam, Mongolia, UAE, Nigeria, Zambia and so on.  Whenever they purchase the sjoow portable cord, they need search the SJOOW Cable manufacturer from the overhead market. So, if you are looking for these sjoow extension cord cables, please contact us.