how much is armoured cable 11kv 16mm 35mm 25mm 95mm 185mm 300 sq mm xlpe power in China
Whenever you want to know how much is armoured cable 11kv xlpe 16mm 4 core copper sale in Nigeria or


 Philippines or China. Firstly, you need know types of xlpe 11kv 35mm armoured copper power cable. Generally, The 16mm 25mm 35mm 50mm 95mm 185mm 300 sq mm armoured cable belong to the 11kv xlpe armoured power cable range. And these xlpe power cable are very suitable for underground, For example, building, hospital, railway, airport lighting, subway and so on.
3 core 4 core 10mm 16mm 25mm 35mm 50mm copper xlpe armoured cable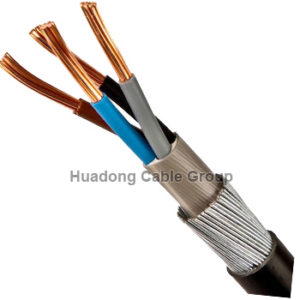 Voltage: 600V/1000V
No.of cores: 1 core  2 core 3 core  4 core and so on.
Conductors: Copper, aluminium Plain Annealed Stranded Copper and  so on.
Insulation: Cross-Linked Polyethylene (XLPE)/PVC
Core identification: Brown, Black, Grey & Blue and so on.
Armour / Protection: swa/sta or non-armoured
Sheath / Jacket: PVC;    Color: Black, White, Brown and so on.
Application:
– The transport industry
– Railway industry
– Underneath roads carrying mains electricity to buildings
– Cable Ducting within warehouses.
4 core 3 core 70mm 95mm 120mm 150mm 185mm copper xlpe armored cable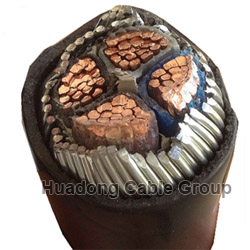 Rated Voltage: 0.6/1KV
Conductor: Copper or Aluminium
Insulation: XLPE
Inner sheath: PVC
Armoured: Galvanized steel wire or Galvanized steel tape /swa
Outer Sheath: PVC and so on.
240mm armoured cable application: According to Chinese national standard GB 12706 and GB12666.6. Can also do by standard of ASTM,BS,GB,DIN and AS/NZS and so on.
So, before you purchase the 11kv xlpe 35mm armoured power cable, you must know how much is the 16mm 25mm 35mm 50mm 95mm 185mm 300 sqmm armoured cable. Therefore, as a reliable 11kv xlpe power armoured cable manufacturer in China. Huadong has exported these cable to many countries , such as, Philippines, Malaysia, Singapore, Yemen, Vietnam, UAE, Indonesia, Zambia, Togo, Mongolia, Iraq, Kenya, Tanzania, Nigeria and so on. So, if you want to know how much for 16mm 25mm2 35mm 50mm 185mm 240mm2 armoured cable for sale, please contact huadong.
Hot sales armored power cable list
How much for xlpe armoured 16 -240 mm electrical cable price in Nigeria?
Because of the 11kv 16mm 35mm 95mm 185mm 300mm armoured cable are very suite for the special environment. So the quality of the 11kv armoured xlpe power cable for buyer in choose the cable also is very important. So, about how to choice the high-quality cable, you need know by the follow methods.
Firstly: Over 95% excellent cable manufactures from China. Especially, Zhengzhou, Henan province. Because of there are have quality copper and aluminum resources. At the same time, it haven gather many 11kv xlpe 4 core 16mm 35mm 95mm 25mm 185mm armoured cable manufacturers, and Huadong Cable is one of them.
Hot for sale of  PVC/Rubber/EPR Copper Flexible Cable
So when you to know how much for 4 core 300mm xlpe armored cable, zhengzhou Huadong Cable factory will is your fist choice.Thirdly: the best xlpe 35mm copper armouredpower cable factory direct sale is very cheap, Because of they without the thirdly the direct sales to the end-user. So, saving a lot of money from middleman for end-user. Meanwhile, Huadong company as one of the biggest 11kv 16mm 35mm 25mm 95mm 185mm 300 sq mm xlpe armored cable manufacturers in China. Especially, it has over 15 years export experience, 15 high senior engineers, 400 staffs and 12 advanced lines. Many end-user customers from more than 30 counties and areas.