How many types of the copper xlpe pvc 4 core 3 core cable 25mm2 35mm2 50mm2

Although, many people know copper xlpe pvc 4 core 3 core cable 25mm2. But less know which type they belong. Generally speaking, the 4 core 50mm2 cable including: 50mm2 25mm2 earth cable, welding 25mm2 cable, abc cable, rubber cable, 25mm 4 core armoured cable and son on. So, when you purchase the cable you must understand the cable 50mm2 belong which type of power cable. At the same time you can search some 25mm2 3 core swa armoured cable manufacturer by internet web. In order to collect more cable information for you reference.
As for how to choose the 35mm2 cable types, you can also any time contact huadong cable group, we can help more 4 core armoured 25mm2 cableinformation. Because of huadong is a lead 25mm 3 core armoured cable manufacturer in China, it is found 2005, over 15 year experience in export. Meanwhile, we have expoerted the 3 core cable 25mm2 and 10mm2 cable to many countries. Such as: Philippines, Malaysia, Yemen, Singapore, Mongolia, South Africa, Nigeria, Zambia, Vietnam and so on.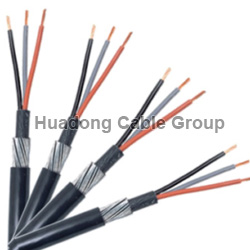 0.6/1kv xlpe/pvc swa cable structure
Voltage: 600/1000V
Conductor: Copper / Plain annealed stranded copper
Approx overall diameter (approximate size): 25.9mm
Core: 4 core, 3 core (Brown, Blule & yellow/green) and so on.
Insulation: XLPE (Cross linked polyethylene)
Bedding: PVC (Polyvinyl-Chloride)
Armour/Protection: SWA (Single wire armour)
Jacket: PVC (Polyvinyl-Chloride)- Black
Operating temperature: Maximum 90C, minimum bending 0C
Standard: BS/IECA/VDE and so on.
How much the copper xlpe/pvc 35mm2 cable
In order to save some money for your work, the 3 core 50mm2 cable price is very important. Therefore, when you purchase the cable you need carefully to choose a reliable 3 core 35mm2 cable factory for your project. huadong is a group joint-stock enterprise research, industry and trade. The group has strong technical force, advanced production equipment, reliable product quality, and excellent after-sales service. So please feel free to buy the 4 core 25mm2 cable in our group.
The production of fake and shoddy 25mm 3 core armoured cable is mainly reflected in the following two aspects. First of all, the insulation layer of 4 core armoured cable 50mm2 is not made of high quality insulating plastics, but made of recycled plastic. If 3 core cable is stripped, the insulation layer will be stripped. 25mm 4 core swa will cause the insulation layer to be struck by electric current and leak. Because of the 25mm2 cable will cause great threat to the safety off life and property of users. Secondly, if the core of the 3 core swa armoured 35mm2 cable is made of inferior material, the actual cross section is far less than the specified specification. And the long term use of the conductor resistance will cause the heat, then cause the danger of  fire. So how do you tell the good from bad?
16mm2 25mm 50mm2 95mm2 EPR/PVC/Rubber/Welding flexible Cable

Start save cost 4 core 50mm2 cable price from Huadong Cable
As a result it is necessary to get an excellent 50mm 4 core armoured cable manufacturer that will save much cost for your work. But how do that? Firstly, you can search some copper xlpe pvc swa 25mm2 cable suppliers in your local 25mm 3 core armoured cable factories.
And then require them supply  price lists for you reference. Check the parameter whether up to the international standard. Secondly, at the same time, you can also searching some overseas 3 core 4 core copper 35mm2 cable manufacturers. And then compare the oversea 4 core 50mm2 cable with native aluminum copper 4 core 35mm armoured cable.
By these information you will found that foreign market will save money for you. Huadong Cable Group is located in Henan province in China. Where gather a large number of powerful 3 core cable 50mm2 factories. As a professional 4 core 50mm2 armoured cable manufacturer, it has over 15 years manufacturing expensive in the 25mm2 3 core swa armoured cable.
1- core 25mm2 35mm2 50mm 70mm2 aluminum overhead abc cable

Voltage: 0.6/1Kv
Type: Single/duplex/triplex/quadruplex
Phase conductor: Aluminum(AAC)
Neutral messenger: AAC/AAAC/ACSR
Insulated: PE/PVC/XLPE/LEPE/HDPE
Color: Black or as your request.
Application: Overhead power transmission and so on.
Check the label and surface of the 35mm2 50mm2 25mm2 3 core cable
Whenever you want to get high quality insulation material 35mm2 cable have a certain mechanical strength and flexibility. But, the poor quality 4 core armoured cable 50mm2 can be torn off or pinched off a piece of the hand. So, the insulation layer of the 3 core cable 25mm2 according to the regulation has a certain flame-retardant property to peel off a section of insulation layer with a lighter. At the same time, 50mm2 cable can continue to self-ignite after leaving the open fire is inferior 25mm2 earth cable.
16mm 25mm2 50mm2 3 core SJ/SJOOW/SJO/Soow Resistance Oil Rubber Cable

1. Insulation: Ethylene Propylene Diene Monomer (EPDM) or EP compound
2. Jacket: rubber or CPE or CP compound
3. Voltage: 300 Volt
4. -40ºC to +90ºC
5. 90ºC 300 Volt UL /CSA Portable Cord
6. Excellent resistance to oil and moisture  Good tensile strength, elongation and aging characteristics  High flexibility  Excellent abrasion resistance  Water-resistant  UL Listed and CSA Certified for indoor and outdoor use.
We purchase large batch raw 25mm2 cable material from local of origin. That save much cost of 25mm 3 core swa cable production.
Certification of 25mm 3 core armoured cable produced by formal manufacturer shall include the following: 3 c attestation, certification number, type and specification, standard, rated voltage, date of  50mm 4 core armoured cable 25mm2 manufacture, producer, factory location, fixed-line telephone, and anti-fake label and so on. However, the counterfeit 25mm2 earth cable is often not clear or incomplete. The plastic outer skin of regular 35mm2 cable is soft and smooth. And the its colour of 3 core cable is even on the surface. Therefore 4 core armoured 25mm2 cable should be printed several items on the product qualification certificate. Such as: 3C, certification number, type rating voltage, execution standard factory name and son on. Meanwhile, the handwriting must be clear and not easy to erase.
1/35KV 3 core 16 -50mm2 armoured cable  structure:

Hot sales armoured power cable list