Learn the 4 core 240mm swa armoured cable structure
Firstly, as South Africa and Nigeria or UAE clients want get the best 240mm swa armoured cable, you should know the structure of the cable. Usually, the 240mm xlpe cable due to medium voltage cable. Meanwhile, it has 240mm swa 33kv xlpe cable, 11kv, 0.6/1kv etc. And then, it including: 3C 240mm2 STA or SWA armoured cable.
At the same time, the conductor is: copper or aluminum or tinned copper. And the insulation is very important. Because  of the 240mm 4 core armoured cable use age dependent of the insulation material quality. So, the xlpe insulation used in the cable production.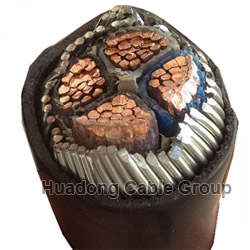 Voltage: 0.6/1kv, 1/35kv and so on.
Outer diameter approx.: 64 mm
Total number of cores: 1-4
Core identification: Colour
Armouring: SWA/STA
Nominal voltage U0: 600 kV
Material outer sheath: PVC
Shape of conductor: Round
Conductor category: Class 2
Nominal cross section: 240 mm2
Flame retardant: No
Hot sale 240mm 4 core swa armoured cable price in uae
Secondly, if South Africa and Nigeria of  UAE  clients want get the high quality 240mm 4 core swa armoured cable. So, you must get a trust 4 core 240mm swa armoured cable manufacturers. Then, you get the lowest 4 core swa armour cable price for your project.
Thirdly, you can contact Huadong cable factory. we can provide you the 240mm 4 core swa armoured cable sample for you reforrence. At the same time, welcome visit our facoty. Also we can desigin the cable according to your requirement, for example: 35mm 4 core armoured cable, 35mm swa cable and so on. At the same them we have exported the cable to: South Africa, Nigeria, Kenya, Yemen, UAE, Tanzania, Botswana, Panama, Indonesia, Philippines,Malaysia, Singapore, Vietnam, Korea, Mongolia, Yemen, Cambodia, Thailand, Kenya.
Iran etc.